Outta gas! in Oman :: The Muscatis
Quote:
Petrol stations have been running out of gas for the past few days. Yesterday I had to drive to three stations till I found one with petrol to fill in. We got a call from someone who works in one of the oil companies about ten days ago warning us that a shortage was coming up and we should't let our car tanks empty. I guess I should have listened to his advice, but a week had passed since he told us and things seemed to be normal till all of a sudden yesterday one station after another started turning away customers.

Apparently the three filling station companies are alloted quotas by Oman Refinery based on orders which they give in advance every three or four months. The last time they placed orders was before the UAE increased their fuel prices and now due to the large numbers of UAE residents in border towns like Buraimi who come in to fill their cars in Oman the petrol supply is running out before the end of the quota period.
This is the sort of thing that gets the economist's blood pumping. And you read it first in Muscati's blog, not the newspaper.
Interesting lesson for those traveling from the UAE into Oman: you may want to tank up with more expensive UAE gasoline before entering Oman.
UPDATE: Coincidently travelled to Oman today to visit Hanging Gardens. Below is a photo I shot of the gas line at the Shell Station - it may be the station Brn mentions in the comments.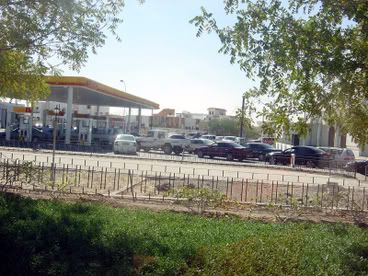 Most of the cars in this line are from the UAE. I enjoy the irony of residents from an oil-rich country country like the UAE crossing the border to buy gasoline cheaper in Oman. I suggest the only solution is for Oman to raise the price of gasoline. Not wishing to wait in line we made sure to refill while still in the UAE.
Another picture
here
.
Labels: Best of EmEc 2005, Best of Emirates Economist, Oman